Lock Downs have ended in French Polynesia as of Monday, October 4, 2021 at 4:00 AM PST
Curfews remain in place for all islands from 9:00 PM to 4:00 AM daily
Arrival forms and tests remain in place
UPDATE AS OF 23 SEPTEMBER 2021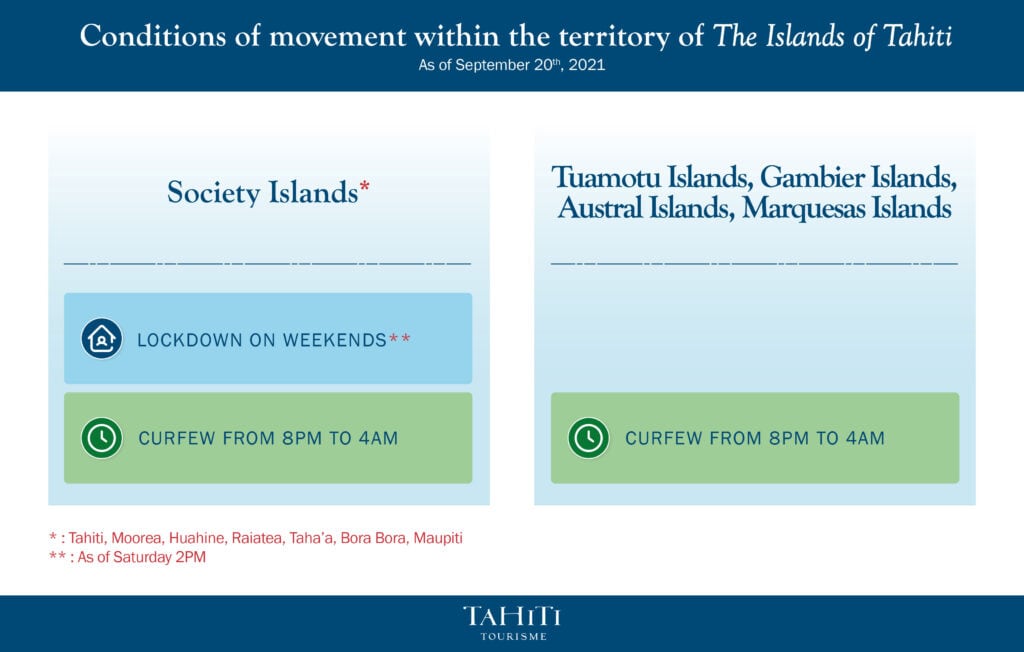 SOFT LOCKDOWN ON WEEKENDS FOR THE SOCIETY ISLANDS ONLY IS EXTENDED AND CURFEW HOURS MODIFIED
In a joint communiqué, the High Commissioner and the President of French Polynesia have announced on Thursday, September 23, 2021, their decision to extend the current weekend lockdown and curfew.
The sanitary situation continues to improve, case numbers are reduced in our hospitals and many Polynesians are now vaccinated.
LOCKDOWN:
For the following archipelagos: Tuamotus, Australs, Marquesas, Gambier, there is no longer in effect any lockdown. Tourists and residents are free to move around.
In the Society archipelago (Tahiti, Moorea, Bora Bora, Raiatea, Taha'a, Huahine and Maupiti) there is a weekend lockdown from Saturday 2pm to Monday 4am.
This weekend lockdown is now further extended from Monday 27 September at 4am to Monday 4 October at 4am. In other words, tourists and locals will have to remain home or in the hotel specifically from Saturday 2 October at 2pm to Monday 4 October at 4am.
Tourists in hotels, guesthouses, rental homes, AirBnb will NOT be able to leave the hotel for activities, excursions, restaurants during the weekend lockdown. Beaches are closed to everyone during the weekend lockdown in the Society Islands.
CURFEW
The curfew is now changed and now begins from 9pm to 4am. The curfew remains in place throughout French Polynesia and everyday.
WHAT IS ALLOWED?
International Tourists in the islands concerned by the lockdown applicable in the week-end will be allowed:
travel to and from the airport or the ferry terminal (with the travel authorization available on the High Commission's website).
enjoy freely their place of lodging as long as they stay within the property. Activities respecting current health measures are allowed within tourist accommodation. Activities in a designated area in the lagoon in front of tourist accommodation (beach, snorkeling, swimming, paddle boarding, etc.) are permitted.
leave their accommodation for professional or health reasons or for essential goods purchases (with the travel authorization available on the High Commission's website).
International visitors who have an itinerary that includes a change of accommodation on the same island or in another island can travel (with the travel authorization available on the High Commission's website).
Tourism activities will be open outside the lockdown period (during the week and on Saturday mornings).
CRUISES
Individual cruises will be authorized to gradually resume their activities, provided that all crew and passengers are vaccinated and subject to the agreement of the mayors concerned by the stopover areas. There will be no weekend stopovers in the archipelagos still subject to weekend lockdown.
Nautical and yachting charters will also be able to resume according to the conditions that will be specified with the actors of the sector very quickly by the High Commission and the Ministry of Tourism.
DOMESTIC TRAVEL FROM TAHITI OR MOOREA TO OTHER ISLANDS
As a reminder, international visitors aged 12 or over who are fully vaccinated can travel from Tahiti or Moorea to other islands, as long as they can provide a proof of vaccination to the carrier.
Unvaccinated minors aged 12 or over traveling with a vaccinated adult : They will be required to provide a negative test result – antigen or auto test result performed under the supervision of a health professional within 48 hours of departure or RT-PCR test performed within 72 hours of departure. This test can be performed at the Tahiti airport, at the ILM open from 3 pm to 8 pm at the cost of 1 500 XPF. This test can also be performed in a pharmacy (costs vary).
Visitors traveling between two islands of French Polynesia and who are transiting through Tahiti or Moorea without leaving the airport are not affected by these measures.
International visitors under 12 years old traveling with a vaccinated adult can travel freely from Tahiti or Moorea to other islands (no vaccination proof, no compelling reasons and no negative test to be provided).